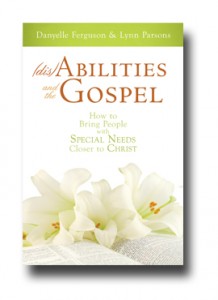 When my husband and I were newlyweds, I was asked to teach the three-year-old Sunday School class. My response was, "Who, me?" I joined the Church as a teenager and, quite honestly, never thought about what the younger kids did on Sundays. During those first few years, I taught children with a variety of personalities. Some were sweet while others were rambunctious bouncers who sapped all my energy. I looked forward to being released as a teacher . . . only to find myself asked to serve as the children's music leader.
It wasn't until our oldest son was diagnosed with autism that the most basic Christian truth finally sank deep into my soul—each of us is a precious child of God who is dearly loved. By the time my son reached his ninth birthday, my husband and I had encountered the challenges of intense therapies, destructive behaviors, communication gaps, social awareness, and endless education meetings. We had also shared triumphs—our son's first sentence, the first prayer he said on his own, and his first Special Olympics medal. We've celebrated each step forward, developed eternal family relationships, and leaned on our Father in Heaven for direction and inspiration all along the way.
While (dis)Abilities and the Gospel began as a guide to help families and Church leaders from my own church (The Church of Jesus Christ of Latter-day Saints), it quickly became apparent that these strategies were applicable to any denomination and classroom setting. (dis)Abilities and the Gospel will help families and church leaders teach the gospel of Jesus Christ to individuals with mental disabilities such as autism, Down syndrome, ADD, ADHD, traumatic brain injury, and more.
If you are a church teacher working with individuals with special needs, it can be overwhelming—especially if you have little or no experience in this area. The "General Information" and "Teaching Strategies" sections contain information and guidance adaptable to any age or class, such as communication between the teacher and parents, adapting lessons, and supporting positive behavior.
If you are a parent of a child with special needs, your life is filled with school meetings, therapists, and doctors, accompanied by the stress of wondering if you are doing everything you can for your child. Church can be especially stressful. Normally we associate going to church with comforting spiritual experiences. For a family with children with special needs, the experience can be quite different. Sometimes, just staying through the first twenty minutes is a major accomplishment. In the "Family" section, you will find tips for making it through meetings as well as chapters covering topics such as teaching prayer, developing sibling relationships, keeping your marriage strong, and surviving the holidays.
Families and leaders from The Church of Jesus Christ of Latter-day Saints may have a difficult time answering questions about baptism, priesthood advancement, temple attendance, and marriage. In the "Primary," "Young Men & Young Women," and "Adults" sections, you will find chapters with LDS-specific questions, answers, and inspiring stories from families, siblings, and Church teachers.
The very last section, "I Am a Child of God," is a compilation of stories sent to us from families and church leaders, talking about their relationships with the special spirits in their lives. These stories are filled with love and lessons learned. You will definitely want a box of tissues nearby.
Lynn and I both desire that families and church leaders understand that they are not alone. There are many people struggling with these issues. We hope this book will help, guide, and encourage you as you teach the gospel of Jesus Christ, regardless of religious denomination, to all special spirits, young and old.