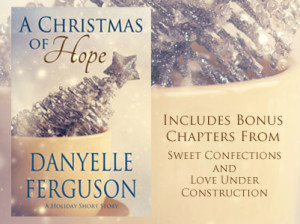 A Christmas of Hope
A Holiday Short Story with Bonus Content
Forget the eggnog. Throw away the candy canes. Christmas is going all wrong this year.
Struggling through her first Christmas as a single mother, Holly can't decide if she should use the little energy she has left to clean the kitchen or wrap holiday gifts. Especially when all she wants to do is sink into bed and embrace the oblivion of sleep.
When her friends from the local autism support group arrive full of holiday cheer, Holly pastes on a smile and tries to fake the fa-la-la. Can the power of laughter, ribbons and bows pull Holly out of Grinch mode? Or is Christmas doomed to end up like a plate of misshapen Santa cookies?
BONUS CONTENT
Enjoy the first five chapters of Sweet Confections – winner of the 2015 RONE Award for Best Contemporary Sweet Romance Novel.
Plus the first chapter of Love Under Construction.
Download A Christmas of Hope for free at the following retailers:
Download!
Save
Save
Save
Save
Save